OEM Front Radius Arm Bush & Bolt Kit Off Road Spec Land Rover Discovery 1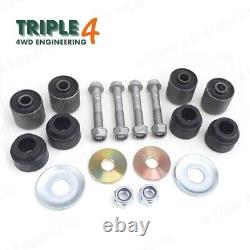 This is the off road version of this kit and is recommended for normal road use, greenlaning, play days and overland vehicles. What makes Triple 4 kits stand out? Triple 4 Engineering suspension bushes are made for us to original equipment specification and we think they are superior to anything else on the market.
Triple 4 metalastic rubber bushes are tough and durable, whilst still allowing the suspension to flex. They offer a firm, yet supple ride.
They're not fancy, they don't look glitzy, they just do the job superbly. Metalastic rubber bushes are the go to bush for any serious 4WD owner. Whatever the application, from road car, greenlaner, weekend toy, overlander, even competition vehicles.
A proper set of original equipment spec metalastic bushes take some beating. Most people like to follow the trend of fitting expensive and not so expensive polyurethane bushes. We have tried all the major brands of polyurethane bushes, experienced them first hand, on every type of terrain, and in our opinion, they just don't make the grade. The 4 main issues been ride quality, splitting, tearing and premature wear. Yes, polyurethane bushes do have a place in some applications.
But for us, on a Defender / Disco 1 / Range Rover Classic chassis, rubber wins every time. This is the off road version of this kit and differs from our fast road kit.
The front radius arm to axle bushes in our off road kits have a central rubber core without the steel insert as in our fast road spec bush and the radius arm to chassis bushes have a fluted inside wall. This increases the flexibility in the bush resulting in excellent axle articulation whilst providing a smooth and compliant ride. This kit also comes with a flange bolts. These are the same as the radius arm bolts fitted to late model Defenders and have a integral flange on both the bolt and the nut. All Triple 4 bolt kits are made to OEM standards and come with the correct grade of high tensile bolts and nuts for each application.
All our bolt kits meet the relevant IS0, DIN and BS standards. What's in the kit?
4x Triple 4 OEM Front Radius Arm to Axle Bushes. 4x Triple 4 OEM Front Radius Arm to Chassis Bushes.
4x Triple 4 OEM Grade 10.9 High Tensile Flange Bolts (Axle End). 4x Triple 4 OEM Grade 10 Nyloc Flange Nuts (Axle End). 2x Triple 4 OEM Grade 10 Nyloc Nuts (Chassis End).
4x Triple 4 OEM Chassis Bush Retaining Washers. Related part numbers ANR6971 / NTC6781 / NRC4514 / NTC6860. This kit fits all Discovery 1 models, 200TDi, 300TDi, MPi, V8 Petrol.