Off Road LED Light Bar 30 180W 12V & 24V Combo Flood & Spot 14400 Lumen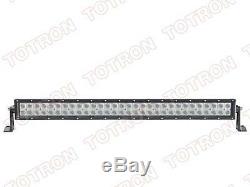 NEW 30 inch 180 Watt LED Light Bar. This aluminium housed LED lighting bar contains 2 rows of 30 x 3Watt LEDs. 180 Watts of LED power, the very latest in LED technology, approximately 2000 Lumens brighter than equivalent LED bars available in the UK market at this time. Typical lumen output of other 180 watt units is 12000, the raw output from this is.
The 8 outer LEDs each end, 16 in total, are wide angle (90°) to give a flood beam pattern. The remaining center LEDs, 44 in total, are narrow angle (8°) to give a central spotlight beam pattern. This combination is extremely effective in concentrating over 70% of the lighting ahead with the remainder up to 45° each side of the vehicles center line. The LEDs internal circuitry is extremely flexible with voltage, unlike conventional bulbs there is no dimming, as they rely on current and have been designed to give maximum light output from 10 volts to 28 volts so can be installed on 12v and 24v vehicles. Typical current draw on 12volt is 13 amps whilst 24volt is about 7 amps. 6", 12", 20", 40" and MASSIVE 50 versions are also available in the shop.
It is very important that switching must be done via a slave relay and fused according to the capacity of the cable used. An additional switch is needed to power the relay, relay typically rated at 30 amp. If in any doubt get an auto electrician to wire these in for you. Because of the power and beam pattern intensity these are not for road use!
This 30" version will need a minimum space of 33" ideally, and will fit most bumpers with the L brackets supplied, also very effective on roof bars. Horizontal adjustment is provided on the brackets, which are supplied with rubber anti vibration spacers. Roll Cage, Frame, Roof bar, Bumper. 30 Degree Vertical Adjustment from Horizontal. Depth: 3 9/16th inches (90mm).
Accessories: Mounting Kit with hex key. What other manufacturers don't want you to know........ Its all about the lumens. On September 1, 2010, European Union. Legislation came into force mandating that lighting equipment must be labelled primarily in terms of lumens, instead of watts.
This change is a result of the EU's Eco-design Directive for Energy-using Products (EuP). For example, according to the European Union standard, an energy-efficient bulb that claims to be the equivalent of a 60 W tungsten bulb must have a minimum light output of 700-750 lumens. We believe our LED products produce the greatest lumen output currently possible using the very latest in CREE LED technology. Until recently the highest light output obtainable was via cheaper Bridgelux or Epistar LED chips.
With the advancement in technology, making a point of the wattage of an LED device has been an irrelevant issue regarding light output for several years now, argueably since the LED was first produced in 1962 where even then an led emmited more light per watt than its equivalent filament bulb. Wattage is purely a measure of the power consumption of a lighting device, only useful for calculating the current draw and sizing of cables. Which brings us to efficiency, if we propose that the most efficient LED chip available is 100%, that then gives us a benchmark for comparison. Our Cree X-BD light bar products can be considered that 100% mark, in comparison Bridgelux LEDs come a close 2nd at 90-95% efficiency in lumens output per watt of input power whereas the very popular but cheap Epistar LEDs manage 80-90% efficiency. Whilst we realise the majority of buyers are concerned with initial cost there are these other factors we have covered that should have serious consideration before investing in a product such as we offer. The item "Off Road LED Light Bar 30 180W 12V & 24V Combo Flood & Spot 14400 Lumen" is in sale since Tuesday, January 14, 2014. This item is in the category "Vehicle Parts & Accessories\Car Parts\External Lights & Indicators\Light Bars". The seller is "landysolutions" and is located in Ramsgate. This item can be shipped worldwide.
To Fit: Front bumper, roof bar,
Technology: LED
Bulb Type: Double row LED (30x2x3watt Led Cluster)
Part Manufacturer: Made to Classic LSE specification
Part Manufacturer Number: CLSE3180
Raw Lumen Output: 14400lm
Dimensions: 30" Length + 2" for brackets
Material: Aluminium Alloy, Powder Coated, Glass Front,
Electrical Protection: Reverse Polarity
I. Rating: 67
Manufacturer Part Number: CLSE18030
Brand: Totron